The heart and hub of Innis College, Town Hall (IN112) is a purpose-built, fully equipped, 4K-digital theatre with a warm and inviting ambience. A popular rental venue for film festivals and artistic/cultural events, rental also includes the East Atrium and Lobby – a perfect space for a reception – and Room 310E, available as a green room.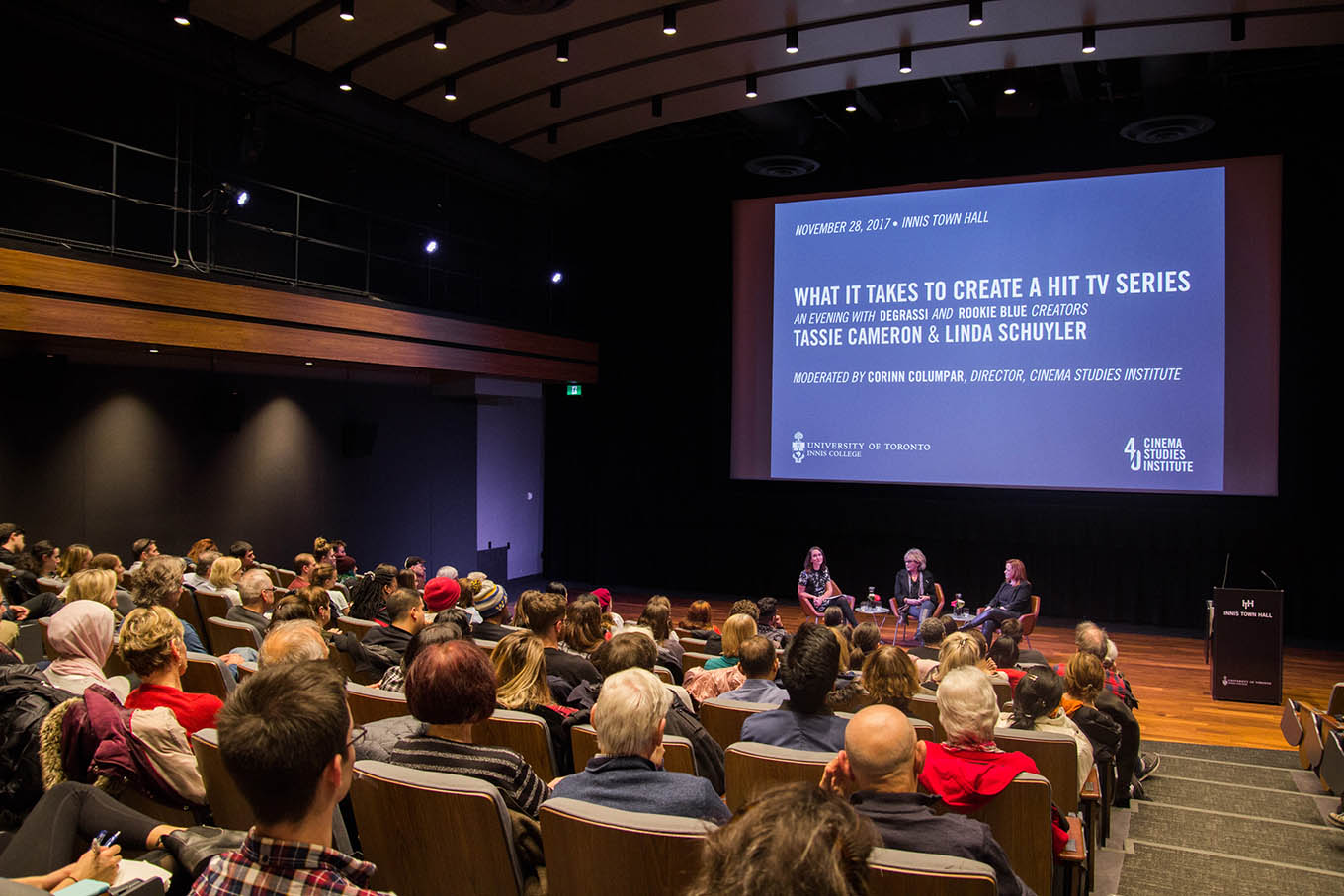 This space is good for...
Total of up to 250 seats; 199 permanent plush seats plus space for 4 assisted mobility devices; 51 folding chairs available on request.
Town Hall is generally available on a slot-based system to external clients, usually from shortly after 6pm – 10pm, Monday to Friday, and from 10am – 2pm, 2pm – 6pm, and 6pm – 10pm on Saturday and Sunday. Weekday time slots are available between U of T academic terms; please contact rentals.innis@utoronto.ca for more info.
The base rate to book Town Hall is $750 for a four-hour time slot, with discounts for qualifying groups. This rate includes event set-up and tear-down time. Venue set-up outside of booked time slot is not permitted.
The base rate also includes use of the screening room with standard house equipment, one in-house technician, and one support staff person.
(These additional charges apply during base-slot booking or otherwise.)
Please specify additional requirements (e.g., audio technician, more event staff, non-standard equipment, additional hours) when booking.
Additional staffing: $50/hour for technician; $35/hour for event staff (ushers, box office staff).
Live event surcharge: $200/slot; includes audio technician for live sound mixing, events, and panels.
Additional hours past slot time: $125/hour (as available, inclusive of venue, equipment and standard staffing; must be booked in advance of event date).
A caretaking surcharge of $200 will be applied for events with food and/or non-alcoholic beverages (Food and drinks only allowed in the East Atrium and Lobby; only water is allowed in Town Hall. Please note: we do not permit external (non-U of T) clients to hold licensed events.)
Innis College is accessible on the main floor, including Town Hall. There are four dedicated spaces for assistive mobility devices at the rear of Town Hall, and the theatre has power-assisted doors for full access. Please note: while the stage is accessible, stage doors are not power assisted. Assistive-listening devices are also available. An accessible gender-neutral washroom is located on the third floor of the east wing. Please direct any accessibility inquiries to rentals.innis@utoronto.ca.
A professional space equipped for both live and hybrid live and virtual events. Stage dimensions: 13.5 m x 5.5 m (44' x 18'); screen dimensions: 4.9 m x 10.58 m (16' x 33').
Find the furniture you need for your event here. Please make your request at time of booking.
Tell us about your event by completing the Rental Request Form below. We'll be in touch ASAP to provide answers to all your questions, and help you plan a successful event.
We welcome your questions or inquiries about any of the Innis event venues.