Innis Deluxe™ Screening Room
The Deluxe™ Screening Room (IN222E) is an intimate theatre on the second floor of the College, ideal for small screenings and events. Rental also includes access to the adjacent
Second-Floor Lounge
, making this a dual-purpose screening and reception space.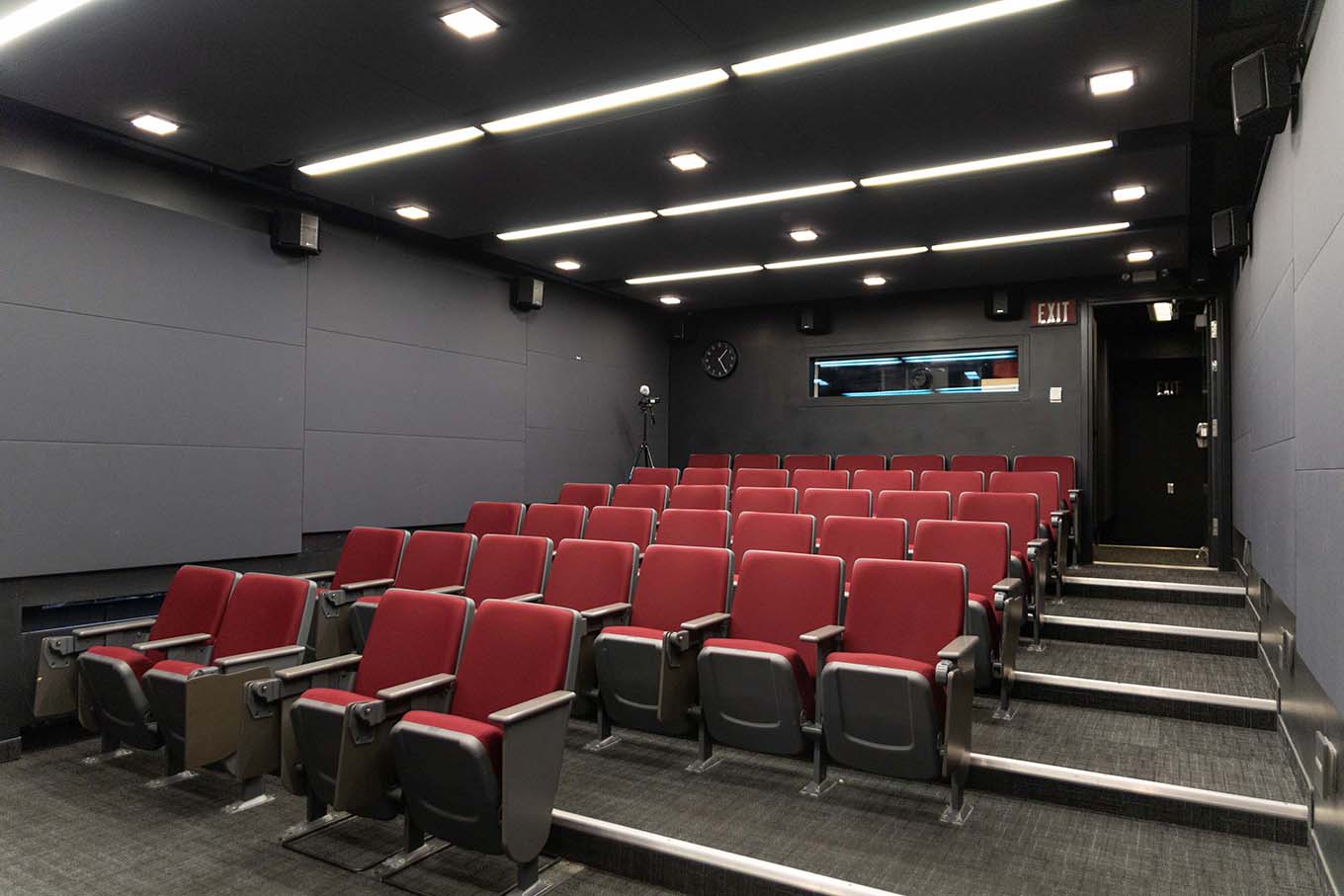 This space is good for...
39 seats; space for one assistive mobility device
The Deluxe™ Screening Room is generally available on a slot-based system to external clients, usually from shortly after 6pm – 10pm, Monday to Friday, and from 10am – 2pm, 2pm – 6pm, and 6pm – 10pm on Saturday and Sunday. Weekday time slots are available between U of T academic terms; please contact rentals.innis@utoronto.ca for more info.
The base rate to book the Deluxe™ Screening Room is $100 per hour for a minimum of three hours, with discounts for qualifying groups.
This base rate includes use of the room with standard house equipment and one in-house technician.
Additional requirements (e.g., event staff, non-standard equipment) should be specified when booking.
The Deluxe™ Screening Room is accessible via elevator from the main floor lobby of Innis College. Please note that the front door to the screening room is not power assisted. There is one dedicated accessible space for an assistive mobility device available at the front of the room. An accessible gender-neutral washroom is located on the third floor of the College's east wing. Please direct any accessibility inquiries to rentals.innis@utoronto.ca.
 Please note that the east-wing elevator, which services the second and third floors of Innis College, will be out of service from November 7–10. During this time, the Deluxe™ Screening Room will only be accessible via stairs (i.e., south stairwell, east-atrium staircase, and north stairwell).
The Deluxe™ Screening Room is equipped with a digital cinema projector (Christie CP2210), and cinema surround sound system (QSC screen mains Axiom surrounds).
Find the furniture you need for your event here. Please make your request at time of booking.
Tell us about your event by completing the Rental Request Form below. We'll be in touch ASAP to provide answers to all your questions, and help you plan a successful event.
We welcome your questions or inquiries about any of the Innis event venues.